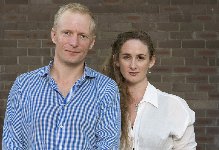 It had been at a point when after a long and convoluted two years of planning, negotiating and raising funds/securing a venue for an Australian premiere of a New York show that the rug was pulled out from under Actor/Producer Jeremy Waters' feet.
It was then Jeremy sent a distress call through to Director/Creative Producer Augusta Supple:
"So, I have a space but no show. I have been sniffing around a few plays but… might this three week slot be an option for a season of their shorts? We could even have a different play program every week if possible… Is this a remotely feasible plan? I thought it would be worthwhile to sound you out at the very least and get your feedback. It is getting a little late in the day and was tossing up whether to give the slot up or not."
Augusta responded.
"You know Jeremy, I think we have enough writers and actors and directors in Sydney to make a really amazing festival. What if we approached some of our favourite artists? What if we flung the doors open and offered the empty space to people? I reckon the artists of Sydney are ready to do something crazy, to get it together and make something out of nothing. I'm keen if you are."
"Let's do it." said Jeremy
"OK. Let me make some calls."
This festival is a celebration – giving actors, directors and writers an excuse to flex their artistic muscles and get to it… this is a festival celebrating artists who get to it, get into it…